Name Day
Skaidris, Ilma
Давид, Константин, Трофим, Игорь
Concerts in Riga during the Christmas holidays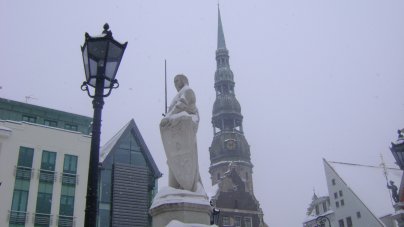 There will be several concerts in Riga during the Christmas holidays, most of which will be free concerts.
Representative of the Education, Culture and Sports Department of the Riga City Council Elina Dambekalna informed LETA that on the second day of Christmas, December 26, at 7 p.m., the people of Riga and its guests will be able to see the holiday concert from the House of the Blackheads in Town Hall Square.

The event is organized by the concert organization "Ave Sol". The Jelgava Big Band and Riga Chamber Choir "Ave Sol" will perform at the concert.

The youth choir "Balsis", for the eleventh consecutive year, will be inviting people to the traditional Christmas concert at the Riga Anglican Church. Visitors will also sing Christmas songs together with the choir and have warm drinks and gingerbread, made by the choir singers.


The concert will be held this evening, December 23, at 8 p.m. and Saturday, December 25, at 11 p.m.


Christmas concerts will also be held in Riga's Dome Church, in the Small Guild Hall, in the Grand Hall of the University of Latvia, in the Great Guild Hall, the VEF Culture Palace, in St. Jacob's Cathedral, etc.


On Saturday, December 25, at 5 p.m. and on December 26 at 3 p.m., the Kipsala Exhibition Hall in Riga will also host several Christmas concerts.


LETA
Current news
13:25 EEST 02.10.2014