Name Day
Vanda, Veneranda, Venija
Петр, Павел
State Secretary Teikmanis meets Foreign Minister of Bangladesh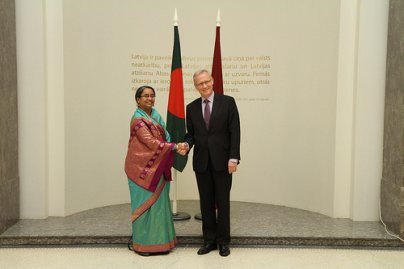 On 21 May, the State Secretary of the Ministry of Foreign Affairs Andris Teikmanis met with the Foreign Minister of the Republic of Bangladesh Dr. Dipu Moni, who had arrived in Latvia on a working visit. The focus of the meeting was on the prospects for developing bilateral relations between both countries, as well as on the current situation in Asia
The parties made note of the good cooperation between the two countries to date within international organisations and expressed interest in dynamising bilateral relations, notably, in the field of culture and education.

Possibilities for parliamentary cooperation were also mentioned. Bangladesh is interested in a closer economic cooperation with Latvia, both through promoting trade and investment and exchanging experience in a number of economic sectors.

This was the first high level visit to Latvia by a Bangladeshi government official. During her visit, Foreign Minister Moni also met with the Minister of Agriculture of Latvia, Ms Laimdota Straujuma, Chairman of the Saeima (Parliament) Foreign Affairs Committee Mr Ojārs Kalniņš and representatives from Latvian universities.

Bangladesh recognized the independence of Latvia on 9 September 1991. Diplomatic relations between both states were established on 21 January 1993.
Press and Information Division

Current news
23:21 EEST 23.09.2014