Name Day
Agris, Agrita
Герман, Сергей
Foreign Minister and EU Special Representative discuss Central Asian region's issues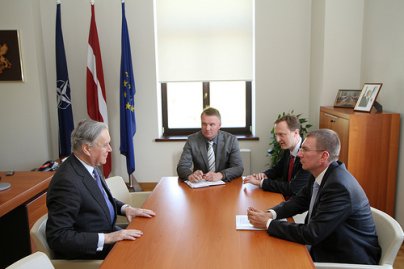 On 8 May, the Minister of Foreign Affairs Edgars Rinkēvičs met with the European Union Special Representative for Central Asia Pierre Morel. The matters discussed were related to the Northern Distribution Network (NDN) and the Central Asian region, as well as the Strategy of the European Union for, and its dialogue with Central Asia. Special Representative Morel shared his long experience of working with the region and its countries
Mr Morel noted that the international workshop on the transformation of the NDN into a commercially viable trading route and the project's potential impact on the development and future of Afghanistan had been arranged at the right time. A number of international conferences on Central Asia and Afghanistan have recently taken place, including on border management and fighting drug crime.

Special Representative Morel indicated that for a further development of the NDN, particular attention should be paid to streamlining customs procedures on the borders of the Central Asian countries that now take 60% of goods delivery time and 64% of shipment costs.

The parties also discussed the EU-Central Asian relations. Minister Rinkēvičs noted that it was important to ensure the presence of the EU delegations in all the countries of the region. Currently Turkmenistan is the only country which does not have an EU delegation.

Pierre Morel believes that it is vital to allocate more funding both for EU programmes in Central Asia and for bilateral projects with member states. The parties were of the same mind that Central Asia has a huge cooperation potential, although its business environment is complicated, with weak protection of investments.

Foreign Minister Rinkēvičs emphasised that it was necessary to promote a political dialogue with Central Asian countries, as well as dynamising economic relations, and pledged Latvia's readiness to continue actively working with the region, both politically and economically.

Mr Pierre Morel has held the post of EU Special Representative for Central Asia since 2006. He has served as Ambassador of France to the Holy See (2002), Ambassador to China (1996-2002), Ambassador to Russia, Turkmenistan, Mongolia, Tajikistan and Moldova (1992-1996) as well as to Georgia (1992-1993) and Kyrgyzstan (1993-1996).
Press and Information Division

Current news
03:24 EEST 24.09.2014