Name Day
Vanda, Veneranda, Venija
Петр, Павел
Foreign Minister signs Memorandum of Understanding with Foreign Ministry Indonesia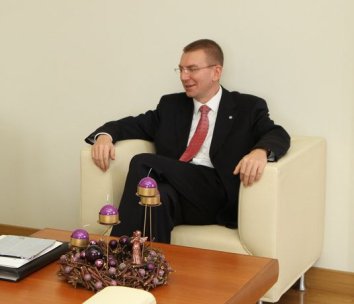 From 28 to 30 April, Foreign Minister Edgars Rinkēvičs was on a working visit in Indonesia and, during a meeting with Foreign Minister Dr. Marty Natalegawa, signed a Memorandum of Understanding between both Foreign Ministries, undertaking to strengthen political, economic and cultural cooperation.
"The principal mission of foreign ministries is to set up a legal framework for bilateral relations in order to enable businesses, academia and other sectoral experts to cooperate in projects." The parties not only discussed bilateral matters but also exchanged views on current international topics, including the ASEAN integration plans, the South China Sea conflict, as well as the reform process in Myanmar.

The Foreign Minister's visit also saw the signing of the cooperation memorandum between the Latvian Chamber of Commerce and Industry and the Indonesian Chamber of Commerce and Industry (KADIN).

The Embassy of Indonesia in Stockholm is planning to organise the Indonesia Days in Riga at the end of this year, including also political consultations, a business workshop and an Indonesian cultural programme in the Rīgas Birža National Museum of Foreign Art, those being some of the activities under the memoranda signed during the visit.

Latvia and Indonesia are interested in strengthening economic and commercial relations: pharmaceutics, timber industry, education and ICT were named as key sectors for cooperation.

During the three-day visit, the Minister of Foreign Affairs met with the Vice Governor of West Java, Mr Dede Yusuf, the West Java Chamber of Commerce and Industry and the Pharmaceutical Association of West Java.

The minister also visited the Paramadina University and met with representatives from a number of other universities, inviting Indonesian students to make use of study opportunities offered by higher education establishments in Latvia. Further, Foreign Minister Edgars Rinkēvičs met with the Minister for Tourism and Creative Economies Mari Elka Pangestu, with whom he discussed an eventual study visit by Indonesian tourism agents to Latvia.

On 2013, Latvia and Indonesia mark the 20th anniversary since the establishment of diplomatic relations, and, to commemorate this event, Edgars Rinkēvičs invited the Indonesian Foreign Minister to visit Latvia.
Press and Information Division

Current news
13:18 EEST 23.09.2014