Name Day
Dārgs, Asja, Asnate, Dāgs
Василиса, Петр, Юхим
Foreign Minister Rinkēvičs starts discussion with Foreign Policy Council on Latvia's EU Presidency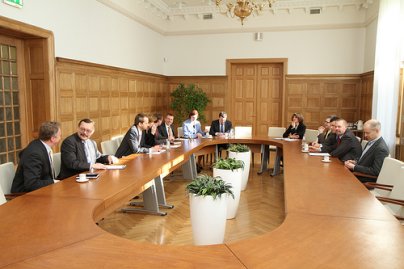 On 22 March, the Minister of Foreign Affairs Edgars Rinkēvičs held a meeting with the members of the Foreign Policy Council to launch a discussion on Latvia's priorities for its upcoming European Union Presidency in 2015.
"This meeting is a beginning of broader discussions and debate about the presidency, the aim of which is to outline the priorities for Latvia during the period," Minister Rinkēvičs accentuated. The minister noted that those matters would have to be discussed at various levels and from different perspectives, so that a preliminary proposal of priorities could be ready for a serious political review at the Saeima foreign policy debate in 2013.

The participants of the discussion shared the opinion that Latvia should set no more than three priorities, and currently there is no need for over-hasty formulations as those tend to change in later periods. At the present moment it is important to begin working on topics and directions which could later serve as points of reference for the formulation of priorities.

The next meeting with the Foreign Policy Council on presidency matters has been scheduled for the second half of the year.
Press and Information Division

Current news
07:54 EEST 16.09.2014