Name Day
Skaidris, Ilma
Давид, Константин, Трофим, Игорь
Latvian lingerie manufacturers take part in the UK largest fashion trade exhibition Moda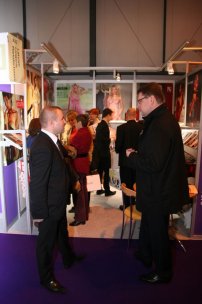 Nine Latvian popular lingerie brands are represented in in the UK largest fashion trade exhibition: Gracija-RIM, Magija Lingerie, Nikol Djumon, Novella, Orhideja, Regina N, Roksa, Rosme, and Vaide. All of these companies are based and producing in Latvia.
This is the second consecutive time Latvia is represented in Moda exhibition that takes place from 19-21 February at the NEC Birmingham.

Latvian exhibition stand was organised by The Investment and Development Agency of Latvia and The Association of Latvian Lingerie Manufacturers. Ambassador of Latvia, Mr Eduards Stiprais visited Latvian Exhibition Stand to discuss opportunities and challenges for Latvian manufacturers in British markets. CEO of the Association, Mr Yuri Hadarovich considers that participation was a success and expects Latvia to be represented also in the next Moda exhibition in August 2012.

Most of the producers have years of experience in lingerie sector, some of them been founded more than 50 years ago. The Latvian textile sector is already strongly export-oriented, but still has considerable potential for expansion in both western and eastern markets.
Embassy of tfe Republic of Latvia
Current news
07:21 EEST 02.10.2014