Name Day
Skaidris, Ilma
Давид, Константин, Трофим, Игорь
State Secretary Andris Teikmanis in Brussels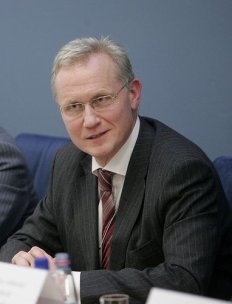 Yesterday in Brussels, the Secretary of State of the Foreign Ministry Andris Teikmanis participated in the current meeting of the EU General Affairs Council which focussed on the future of the EU Cohesion Fund after the year 2013.
While taking part in an exchange of opinions on this issue of vital importance for Latvia, State Secretary Teikmanis urged the EU to continue providing due support also after the year 2013 in order to meet the original goal of the Cohesion Fund – reducing differences in development between less-developed regions and the rest of the EU. Latvia expressed support to putting in place of a cohesion policy with a territorial and thematic focus, in order to facilitate an effective uptake of the EU funding. Mr Teikmanis spoke in favour of focusing EU support upon a clearly defined set of priorities for the EU's regions.

As Latvia sees it, priorities should be identified in a close dialogue among member states and the European Commission, taking into consideration special development needs of each region. The Secretary of State noted that, in order to achieve wise, sustainable and inclusive growth in the European Union, all EU budgetary instruments should contribute towards the goals of the EU Strategy 2020. At the same time, Latvia drew attention to the vital importance of support to building basic infrastructure in less-developed EU regions and satisfying their other fundamental needs under the Cohesion Policy.

At the meeting Latvia expressed support to strengthening strategic planning of the Cohesion Policy through the development of a common strategy which includes all EU financial instruments. This would ensure that the fields of support under the Cohesion Fund, the European Regional Development Fund, the European Social Fund, the European Agricultural Fund for Rural Development, the European Fisheries Fund and other EU financial instruments do not overlap and would facilitate their mutual synergy towards reaching the EU 2020 Strategy goals.

The participants of the meeting exchanged opinions on the grounds of the European Commission's Fifth Report on Economic and Social Cohesion issued on 10 November 2010. The Council's conclusions were adopted on this matter.

Latvia receives major funding of 4.53 billion euro under the EU Cohesion Fund for 2007-2013.

The General Affairs Council will evaluate the results of the European Council of 4 February and exchange opinions on the preparations for the European Council meeting due on 24-25 March. It is expected, that the Council will focus on economic policy issues and developments in the southern regions neighbouring the EU.

AM
Current news
11:22 EEST 02.10.2014