Name Day
Sandra, Gunvaldis, Gunvaris, Sondra
Алексей, Иван, Федот, Антон
21st anniversary of the Declaration of the Renewal of Independence of the Republic of Latvia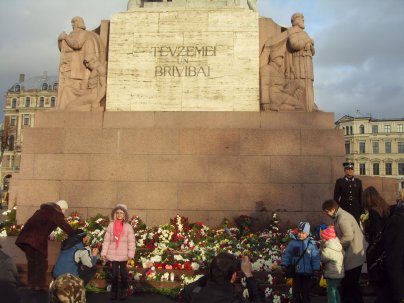 In celebration of the 21st anniversary of the Declaration of the Renewal of Independence of the Republic of Latvia, a wide program of events, including concerts, movies and exhibitions, will be taking place in Riga tomorrow, LETA was informed by Riga City Council Culture Department Project Coordinator, Elina Dambeklane.
The festivities will begin with an ecumenical service at St. Jacob's Cathedral, at 10 a.m.

At 10.30 a.m., flowers will be laid out in the shape of Latvia by the Freedom Monument.

At 2 p.m., a traditional march of brass band orchestras will take place at the Freedom Monument.

Several TVs in 1990-style apartments will be set up in four squares downtown and Old Town, which will broadcast well-wishes for Latvia from famous and not so well-known people and their memories of May 4, 1990.

Cinema "Riga" will offer a marathon of documentaries and animation movies until 11 p.m. The Latvian Occupation Museum will also offer a movie and an exhibition to its visitors at 4 p.m.

A number of events will also be held in Riga's culture centers, Vermanes Garden, on Town Hall Square and the Esplanade.
LETA
Current news
12:27 EEST 15.09.2014