Name Day
Lāsma, Zanda, Zandis
Спиридон, София, Ариадна, Ирина
Balsts index in may has grown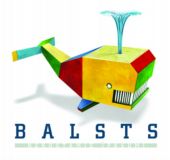 In May BALSTS index reached 127 points, that is the result of the increased customer activity in the center of Riga and in the neighborhood. Price of apartments in the center increased by 0.40%, but price in neighborhood increased by 0.50%. Residential construction has resumed during May. Costumers are more interesed in short-term rental.
"In May, as a result of increased customer activity, average price of apartments in the center has increased by 0.40%, and now it reached 1215 EUR/m2. Average price of residential neighborhoods has increased by 0.34% and it reached 577 EUR/m2. This positive trend has caused an increasing also in BALSTS index, in May 2012 it reached 127 point scale., " reports CEO of the company BALSTS Aigars Zarins. The biggest increase in the price is in Zolitudes area where apartment prices have increased by 1.80%.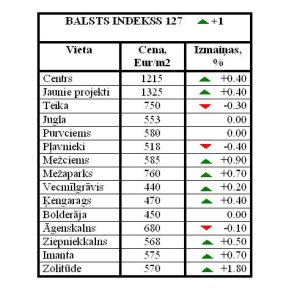 "In May also number of bank assets which are on sale have increased, and there are special favorable credit conditions and bonus packages for bank property.
Slowly is activating residential construction, and there is unexpected demand for buying building land. There are inhabitants who have already purchased land in past and now are starting to build their own houses, and there are inhabitants who are interested in purchasing land and later are planning to start house construction.

In May, costumers are more interesed in rental sector. Influanced by upcomming summer period, latvian inhabitants are more interesed in short-term rental, obviously they want to spend their holidays in more favourable place,"
real estate market comments Aigars Zarins.
More information you will get:
BALSTS, Lacplesa Street 41,
Tel.: + 371 67076191
Fax: + 371 67076199
info@balsts.lv, http://www.balsts.lv
Current news
21:16 EEST 01.10.2014