Name Day
Vera, Vaira, Vairis
Федор
Foreign Minister Rinkēvičs invites Poland to promote economic cooperation with Latgale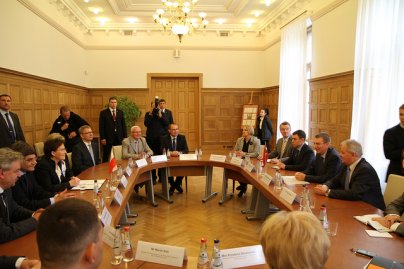 On 29 May, the Minister of Foreign Affairs Edgars Rinkēvičs met with the Marshal of the Sejm of the Republic of Poland, Ewa Kopacz, who was in Latvia on an official visit.
The parties discussed bilateral relations between both countries and the topics on the European Union agenda. Minister Rinkēvičs noted with satisfaction that Latvia and Poland were engaged in an active political dialogue and had established good cooperation in national minority issues.

The minister urged to enhance economic relations, in particular, by promoting economic cooperation between Poland and the Latvian region of Latgale.

The Marshal of the Polish Sejm commended the work done by Latvia in overcoming the economic crisis and carrying out reforms. The parties shared the opinion that both countries needed to cooperate in the discussions on the EU's future financial framework, in which the issues of cohesion and direct payments are equally important.

As the parties discussed security policy, the minister thanked Poland for its contribution to the Baltic airspace policing mission. Other topics discussed were the current developments in the EU external relations, including cooperation with Eastern partnership countries.

Marshal Kopacz was accompanied to the meeting with Foreign Minister Rinkēvičs by a delegation of members of the Polish parliament.

Ewa Kopacz, who assumed the post of Marshal of the Sejm on 8 November 2011, represents Prime Minister Donald Tusk's Civic Platform party.
Press and Information Division

Current news
04:28 EEST 17.09.2014