Name Day
Skaidris, Ilma
Давид, Константин, Трофим, Игорь
Banking sector's profit at LVL 38 million in Q1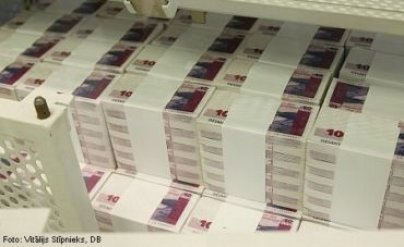 (NOZARE.LV) - The Latvian banking sector concluded the first quarter of 2012 with LVL 38 million in profit, "Nozare.lv" was informed by the Financial and Capital Market Commission.
"Latvijas Krajbanka" losses excluded, the sector's profit reached LVL 48 million by end-March. 16 Latvian banks and six foreign banks' branches operated with profit; their total share of the banking sector's assets - 92.6 percent.

The sector's profit before provisions and taxes totaled LVL 70.2 million at end-March, 50.4 percent more than in the respective period of 2011. Capital adequacy ratio was 18.1 percent at the end of March, liquidity ratio - 63.2 percent.

The total amount deposits attracted by banks reduced 0.4 percent or LVL 39.7 million in March.

Raivis Spalvēns, Nozare.lv

Current news
13:24 EEST 02.10.2014