Name Day
Menarda, Elma, Elna
Вера, Надежда, Любовь, София
Escaped bear spotted in local garden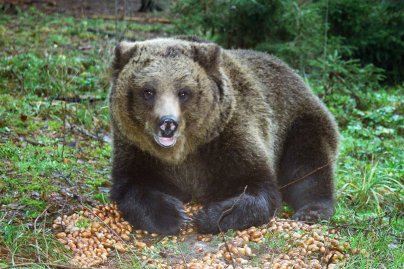 (LETA) - The bear who escaped from the Ligatne Nature Trails this past weekend has been spotted in a garden at a home near the park, LETA was informed by the head of the Ligatne Nature Trails Janis Andrusaitis.
She has eaten some of the food put out for her by park workers, but has returned to her ''adventures'' in the forest.

The bear's keeper Velga Vitola is hard at work putting out food and calling the bear.

''It is clear that the bear is agitated,'' Andrusaitis said.

The female bear is currently in the forests near the nature trails and has not strayed too far.

As reported Monday, a bear has once again escaped from her enclosure at the Ligatne Nature Trails (northeastern Latvia). Its name is Made - the same bear that escaped at the park last August.

The surrounding local roads have been blocked, with people from the park's administration working in the territory to try to locate the animal.

Residents of the area have also been warned and extra police have been sent.

Made used the same ''tactic'' as last time to get out of her enclosure - digging a deep hole underneath a metal fence.

As bears living in the trails are used to the presence of humans, their instinct of fear is less strong than wild bears. Encountering such a bear is extremely dangerous.

Entrance to the territory of Ligatne Nature Trails will be prohibited until the situation is solved.

Ligatne Administrative District Council is asking all inhabitants and guests to avoid the nearby forests.

LETA also reported, using honey and other goodies to attract the bear, the park's rangers were able to lure Made animal back to her home last August.
Kristīne Meistere, LETA

Current news
16:48 EEST 30.09.2014