Name Day
Agris, Agrita
Герман, Сергей
Foreign Ministry State Secretary Andris Teikmanis gives speech at opening of 11th Baltic Economic Forum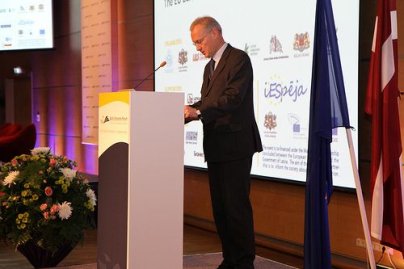 The Secretary of State of the Foreign Ministry Andris Teikmanis gave a speech at the opening of the 11th Baltic Economic Forum which takes place on 23-24 September in Rīga. The theme of the discussion for the Forum is The EU Strategy for a competitive Baltic Sea Region.
A. Teikmanis emphasised that the aspect of a competitive Baltic Sea Region is of greatest importance for Latvia both from the aspect of the functioning of the EU common market, as well as in striving to develop a knowledge and innovation society, and energy and transport connections. In 2010, Latvia will hold the presidency of the Baltic Council of Ministers, and one of the key priorities for this presidency will be the stabilization of the Baltic Sea Region economy and the enhancement of competition, as well as the development of a co-coordinated region-wide approach.

The Foreign Ministry Secretary of State recognised that the strategy opens broader opportunities for the planning regions, Latvia's local authorities, sectoral associations, non-governmental organisations and businesses to find new co-operation partners in the Baltic Sea Region, as well as to jointly work on larger-scale regional projects, engaging support from the EU and international financial institutions.

This co-operation will provide regional level tools in order to address a number of tasks which cannot be handled through the efforts of a single country or a local level organization, and which requires support from neighbouring countries and partners.
Mr Teikmanis expressed conviction that the region's countries require a common vision for the development of energy and transport infrastructure. A regional approach is necessary also in environmental projects dealing with the fragile ecosystem of the Baltic Sea.

The Ministry of Foreign Affairs, in association with stakeholders, is identifying projects of strategic significance for Latvia, the implementation of which during the period of 2014-2020 would promote long term growth and competitiveness in the country. A successful competition in the global environment requires internal consolidation of resources and targeted measures for applying economic and political influence.

The Strategy is an instrument for shaping, by common effort, of a united region which makes pragmatic use of the advantages of a common market and a co-ordinated approach to infrastructure development.

The 11th Baltic Economic Forum is organised by the Latvian Business School and the Economists Association 2010 in co-operation with the Prime Minister's Office of the Republic of Latvia, the Ministry of Foreign Affairs of Latvia, the Representation of the European Commission in Latvia, the Ministry of Economics of Latvia, and the Latvian Employers' Confederation. The event is co-financed by the European Commission and from the resources of the Management Partnership concluded by the Latvian Government.
Press and Information Division

03:25 EEST 24.09.2014